3 dishes you can prepare in advance to make Thanksgiving dinner easier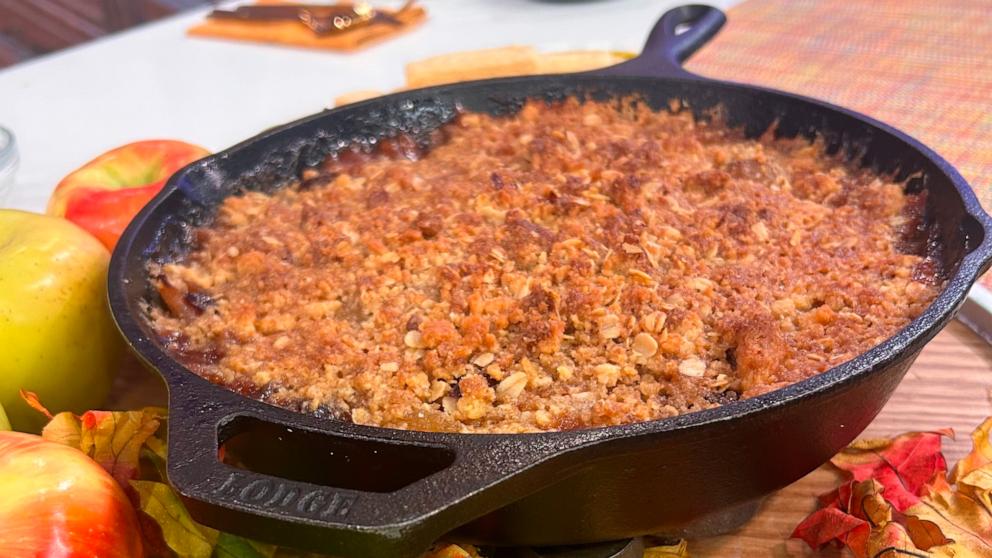 If you're responsible for preparing Thanksgiving dinner for your loved ones, you know how stressful it can be. So many dishes, so little time. Fortunately, there are some ways to make this process a little easier.
Chef, cookbook author and "Sara's Weeknight Meals" host, Sarah Moulton, recently stopped by "GMA3" to share three helpful recipes you can make before Thanksgiving that will make your holiday stress-free.
Make the mashed potatoes ahead
ingredients:
3 lbs. Yukon gold potatoes, peeled
Kosher salt, to taste
1/2 to 3/4 cup whole milk, hot
4 tablespoons. Unsalted butter, cut into tablespoons and softened
Freshly ground black pepper, as desired
directione:
Quarters or halves of potatoes, depending on size. Place in a large pot and pour enough cold water to cover by an inch. Add salt and leave it to boil over high heat. Reduce heat to medium and simmer until tender when pierced with a sharp knife, 20 to 25 minutes. Drain the potatoes and return them to the pan. Reduce heat to low and swish until dry, about 2 minutes. Transfer to a food mill fitted with the finest blades or to a strainer and puree. (Or just mash it with a portable potato masher.) Add the butter first, then half a cup of milk, and salt and pepper to taste. Thin with extra milk if you like a lighter texture. Serve immediately.
If you want to prepare the potatoes a day ahead, follow the instructions to mash the potatoes. Then we transfer them to a glass bowl, cover them with plastic, and put them in the refrigerator overnight. On Thanksgiving Day, soften the butter (add it first), heat the milk, heat the potatoes in the microwave and add the other two ingredients along with salt and pepper to taste.
Make the broth ahead
ingredients:
8 tablespoons. Unsalted butter
1/2 cup all-purpose flour
4 cups of chicken or turkey broth, hot
Half a cup of dry red or white wine
Preserved liquid from turkey roasting drippings
Preserved liquid from a turkey resting dish
directione:
In a medium saucepan over moderately low heat, melt the butter. Add the flour and cook, whisking, for five minutes. Add the broth in a stream, whisk and bring to a boil. Reduce the temperature to a boil for five minutes. Allow the broth to cool, then transfer it to a bowl, cover and leave to cool overnight. The gravy will be thick, but you will add liquid to it, which will thin it out.
On Thanksgiving Day, after you transfer the turkey to a platter and cover it loosely with aluminum foil, pour the drippings from the pan into the fat separator and discard the fat in the separator. Place the roasting pan on two burners on top of the stove, and turn the burners to medium. Add the wine and reserved drippings to the pan and scrape up the browned bits on the bottom of the pan. Whisk in the prepared broth, any juices from the remaining turkey, and salt and pepper to taste.
Apple and Cranberry Pie with Shortbread Crust
The filling and crust can be prepared several days in advance and kept covered and chilled in the refrigerator. Simply assemble the pie and bake it about 25 minutes before eating. The caramel sauce can also be prepared in advance and then reheated.
Apple filling ingredients:
2.5 lbs. Mixed apples (your choice, but avoid apples that fall apart like a McIntosh), peeled, seeded, and cut into 1/4-inch thick slices
A quarter cup of well-packed dark brown sugar
1 tablespoon. Fresh lemon juice
1/4 teaspoon. salt
1/2 teaspoon. cinnamon
2 tablespoons. Unsalted butter
1/2 cup fresh apple juice
3/4 cup dried cranberries
Decorating ingredients: 8 Walker's pure biscuits, cut into quarters
1 stick unsalted butter, cut into small pieces
A quarter cup of well-packed dark brown sugar
1/4 teaspoon. salt
3/4 cup of old-fashioned oats
Spray ingredients:
11 oz. Caramel squares 2 tbsp. water
1/3 cup half-and-half
2 teaspoons. Vanilla extract
Vanilla ice cream
directione:
To prepare the apple filling: In a medium-sized bowl, mix the apples, brown sugar, lemon juice, salt, and cinnamon. In a 10-inch skillet, melt butter over medium-high heat. Reduce to medium and add apple mixture (reserve the bowl) and apple juice. Cover and simmer, stirring frequently, until most of the apples are soft but holding their shape. 12 to 15 minutes.
Preheat the oven to 400 degrees.
Transfer the apples with a slotted spoon to the reserved bowl, leaving all the liquid in the bowl. Bring the liquid to a boil, bring to a simmer and cook until the liquid has reduced by half and is sweet. Add the apples and cranberries to the pan and stir well.
To prepare the topping: In a food processor, grind the biscuits until coarsely chopped. Add the butter, sugar, and salt and whisk the ingredients well until combined. Add oats and stir three times. Distribute the filling evenly over the filling, pressing gently.
Bake the pie on the middle rack of the oven for 15 minutes or until golden brown. Let stand for 10 minutes before serving.
Make the caramel drizzle while the pie is baking. In a small saucepan, mix the caramel with water and leave the water to boil over medium-high heat. Reduce the heat to medium, then cover and cook, stirring frequently, until the caramel has melted and the mixture is smooth. Carefully add the half-and-half (it will bubble) and whisk until the sauce is smooth. Remove from heat and stir in vanilla.
To serve: Scoop the pie into each of six plates, top each portion with a scoop of vanilla ice cream and drizzle generously with the sauce.