50 years of achievement of live export company Austrex + PICTURES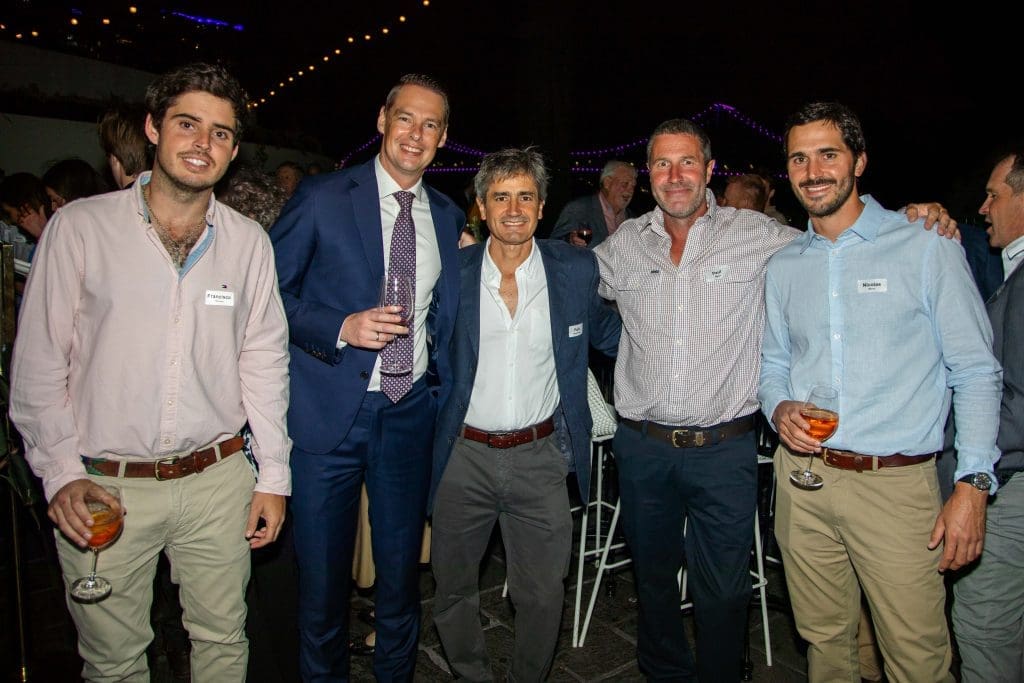 Leading direct export company Austrex celebrated 50 years of operations with great enthusiasm in Brisbane on Friday evening.
Tall and true tales were shared between 300 guests from across the Australian live export industry, freight service providers, livestock suppliers and overseas customers who attended from China, Indonesia, Thailand, Vietnam and elsewhere.
Special guests included the three original Austrex founders from 1973 – Dr Rick Trivett, David Crombie and John Down, who was joined a year later as director by Wayne Reid.
Also in attendance was Bill Gunn Jnr, who with his father, Sir William, owned Gunn Rural Management – ​​where the three Austrex founders started, and from which Austrex was born in 1973. The Wallabies were master of ceremonies for the night. Legend John Ailes.
Austrix rode the incredible growth wave of livestock exports from Australia during the 1980s and 1990s, experiencing significant highs and lows along the way.
The company continues to operate as one of Australia's leading livestock exporters to this day, as part of the AgTrade Group led by CEO and Managing Director Justin Slaughter.
During Friday's meeting, a timeline of Ostrix's history over half a century was presented:
Establishment of the seventies
1968 Richard Trevett joins Gunn Rural Management
1972 First shipment of Brahman feeder cows (350 hp) to Sabah, Malaysia, with Dr. Lee
1973 Establishment of Austrix
The first contract to supply Corydale sheep to Peru
1974 Multiple shipments to Indonesia to supply thousands of Brahmin cattle
The supply of Brahman bulls from the Northern Territory to Brunei by air has begun
Late 1970s Fred Tambunan was appointed AUSTREX representative in Indonesia
In 1978 GRM AUSTREX purchased the Auvergne, Newry and Argyle cattle stations.
It was contracted to supply 2,000 Sahiwal and Persian calves to Malaysia
1980s expansion
1983-1985 1.5 million long-tailed sheep were shipped to Saudi Arabia
1986-1988 Establishment of New Zealand agricultural exports
In the late 1980s, the first shipment of the Green E-Sarn project took place in Thailand
Livestock shipments to Mexico with Alex Hansen
The Indonesian Brahman breeder contract begins
Exporting 10,000 tons of lamb from Australia and Uruguay to Algeria
Growth of the 1990s
1992 Sale of New Zealand agricultural exports to the New Zealand Dairy Board
1993 Consolidated Press Holdings acquires GRM International & Austrix, Inc
Auvergne, Newry & Argyle Properties
Justin Slaughter was first hired for work experience
1994 Establishment of the Middle East Australia Trading Company (METCO).
Construction of a 150,000 ton feedlot in Jordan led by Jim Stewart
1995 Expanded to Southeast Asia through feeder and slaughter cattle shipments to Indonesia,
Philippines, Malaysia and Brunei
New markets in the 2000s
2001 Exported to the United Arab Emirates, Kuwait and the Philippines
2002 First shipment of dairy cows to China
In 2003, Richard Trivett retired as CEO, and Justin Slaughter was appointed Managing Director
Founding of Austrix New Zealand
2004 Began trading in frozen meat, dairy products, grains and seeds from Uruguay
And Brazil
2006 Breeding cattle were exported from New Zealand to new markets – Pakistan, Peru, Russia
Union and Mexico
2008 The first shipment of dairy cows to Türkiye from Australia
2009 Management Buyout – AgTrade acquires AUSTREX
AgTrade was formed
A new era in the first decade of the twenty-first century
2011 First shipment of cows and buffalo from Uruguay and Italy
2012 Establishment of the Shima Wagyu herd
2015 First shipment of cows from Chile
It entered the wagyu market in Japan
In 2018, an investment was made with PT PAM to acquire the assets of Elders Indonesia
A food model has been created
ThriveAgri was founded
Diversification in 2020
2022 First shipment of Wagyu beef from New Zealand and Uruguay
Acquisition of Hay Australia and SP Hay
NatureBase was established
2023 Paradigm Foods becomes the first Australian meat exporter to achieve B Corp certification and
It won the Banksia National Sustainability Award for its regenerative, rooted beef
AgTrade – Winner of the Queensland Premier's Export Awards – Agribusiness and Food
And drinks
Paradigm Foods – Winner of the Queensland Premier's Export Awards – Sustainability
& Green Economy