Of all the items in your kitchen, baking dishes are arguably one of the trickiest things to store. Unless you have a matching set (which most of us don't, let's face it) they're unlikely to nest perfectly, and even if they do, you'll inevitably need the set underneath when dinnertime comes around.
The first step towards properly organizing the kitchen is to make sure that every item has a designated place. Whether you store them in drawers or cabinets, baking dishes should stay in the "cooking" area — or at least the dishes you use most often, anyway.
Once you know where to store it, you can then start thinking about how to store it.
How to store baking dishes
We've put together a step-by-step guide, including top expert tips on the best kitchen storage ideas, to ensure your baking dishes stay clean, tidy and easily accessible at all times, and quick to put away too – less time spent purging, that's better.
1. Organize your plate collection
You've probably accumulated many baking dishes over the years, some of which you may no longer want or need. It's time to simplify your collection. Start by getting rid of anything dirty or damaged, then set aside duplicate dishes or dishes you no longer use to donate.
Sorting as you go will save you time, and is easier to do at this stage. Think about how often you use certain dishes. Some you may only use during the holiday season, or when hosting dinner parties. Consider storing them just outside the kitchen to free up a little space for more essential cooking items.
2. Give frequently used baking dishes a standout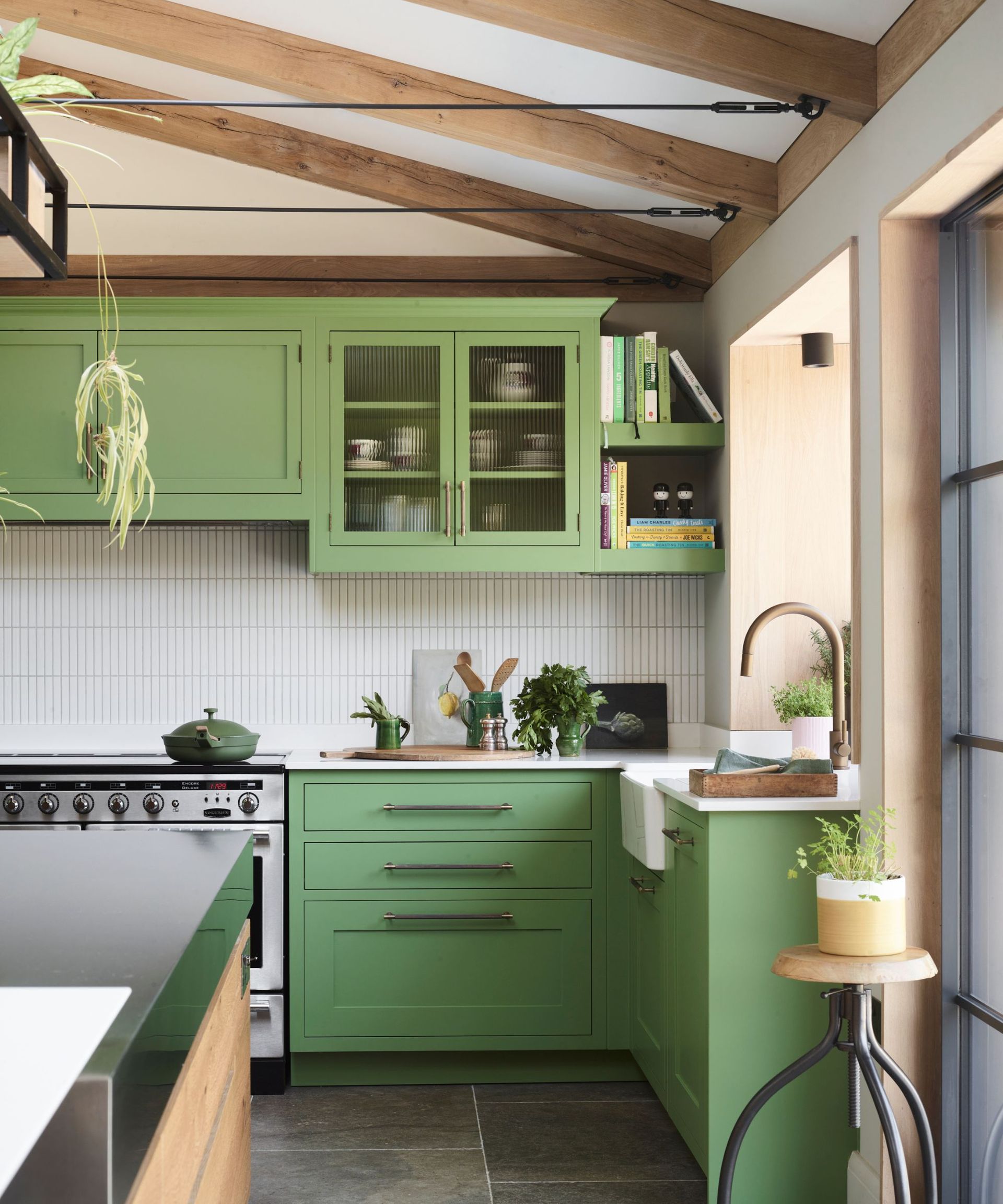 Once you have things sorted, you should be left with a basic set of baking dishes. If it's still on the large side, consider separating the dishes you use on a regular basis from the rest of your collection and giving them a vantage point within your kitchen; Drawer or kitchen cabinet storage ideas inside the cooking or prep area, as close to the stove as possible.
If you're not sure which area of ​​the kitchen to put your baking dishes in, check out our guide to the six main areas of kitchen organization.
3. Take weight into consideration
Ease of access for most people usually means placing items at waist height – lower shelves in upper cabinets, or upper drawers in base cabinets. This is fine for lighter dishes, but if you're dealing with heavier dishes (or stack several of them inside of each other), you'll want to place them lower to avoid any breakages or accidents.
4. Customize the closet
Nowadays, there are all kinds of kitchen organizers you can use to make your cabinets work harder. One of the first things you should do when organizing your cabinets is adjust the shelves to fit what you're storing, so start by calculating the height of your dishes, making sure to take stacking into account.
"I like to separate stacks of overlapping baking dishes, one on top of the cabinet and one below, so they don't get too heavy. There are also fewer plates to pull out to get to the dish you need, says professional organizer Amanda Weiss, founder of Urban Clarity."
If you'd rather not reach your cabinets every time, try these things RoomTec is recalling closet organizers from Amazon as well.
5. Make space in a deep drawer
Cabinets may be your preferred option, but a deep drawer is usually an accessible way to store baking dishes; Retractable storage means less searching to find what you need. Lining the drawer with a pegboard is a clever trick – you can simply adjust the pegs according to the size of the dishes you're storing, so they don't make noises when opening and closing them. Using Gorilla Grip anti-slip shelf and cabinet liner at Amazon can make a difference, too.
6. Store it vertically in a shelf
Storing baking dishes upright can be a practical and space-saving solution, especially if you're organizing tall, narrow kitchen cabinets.
"The most sturdy dishes can be stacked on their sides like files without the risk of breaking," says Laura McHolm, founder of North Star Moving Company. 'This simple step not only frees up more space, it allows you to see exactly what you have, rather than stacking them on top of each other. You can take it out more easily too.
Heavy-duty shelves are great for keeping them in place if they're in a drawer or on a pull-out mechanism of some kind. "Make sure the dividers are adjustable so you can adapt your system to deep or narrow dishes," adds professional organizer Lauren Saltman, founder of Living. simplified.
For professional organizer Lauren Saltman of Living. Put simply, decluttering and organizing is how she lives her daily life, whether she's organizing her home, a friend's office, or a client's garage, her resourceful approach results in happy clients who learn to incorporate happier, simpler lifestyle techniques.
7. Store lids separately
Storing casseroles with lids is nice, but it's definitely not the most space-saving solution – storing them separately makes more sense, whether you're organizing a small kitchen or not. Under-shelf baskets (try this wire design on Amazon) are great for this; Stack a stack of dishes on a cabinet shelf and place their corresponding lids in the basket above.
If you're looking for small kitchen storage ideas, installing a narrow rack or shelves at the back of a cabinet door is a great way to maximize space; Open the lids inside and store the dishes separately in the same cabinet. This works great for storing pot lids too.
Keep lids in one place with this space-saving plastic pot lid organizer.
Chrome folding lid holder
The chrome folding lid holder stores six lids, and reviews say it slides smoothly for easy access.
Slide-out bowl and bowl lid organizer
Similar to The Container Store's chrome model, this sliding pot lid organizer comes with a good review on Amazon.
8. Stack by shape and size
Having a variety of shapes and sizes of baking/casserole dishes can be great for cooking, but not so great for storage. Ideally, you buy dishes from the same brand so that they nest well together, but if you're dealing with an eclectic group, a well-thought-out stacking method is a good solution.
"Start by grouping dishes by shape and size. Keep all your round and square dishes separately and arrange them by size, so smaller dishes can fit inside larger dishes. This will help save you space and make it easier to find the exact dish you need when cooking," she says. Professional organizer Laura Price, founder of The Home Organization.
Placing a paper towel between each plate should prevent any chipping or scratches, which is something you'll especially want to consider when stacking ones made of glass.
'Be sure to avoid excessive stacking; Trying to grab a casserole dish from the bottom in the pile without removing the dishes on top will result in a plate avalanche! "Try to keep a maximum of three or four casserole/baking dishes in one stack and make sure they are not precariously balanced," adds Laura.
Laura Price is the owner of The Home Organization. Laura Price's goal is to help others experience the benefits of living an organized life after discovering that organized homes brought her peace when raising three children in a crowded home. Hence the birth of The Home Organization, a dedicated team of professional organizers.
common questions
What is the best way to store baking pans?
Since they are flat and slim, you might think that the baking trays would be easy to store. Stack them on top of each other in the closet, job done, right? Unfortunately no. You probably have a variety of different sizes, some designed to hold cakes, others for cupcakes… it's almost impossible to get them to nest neatly on top of each other. Even if you manage to manage an unstable pile, take one from the bottom and the whole pile will collapse.
In our opinion (and the opinion of experts), the best way to store bakeware is vertically, either in a deep drawer or in a kitchen cupboard — it's more accessible, and you won't risk the pan collapsing every time you do it. Pull one out. Since they are so lightweight, you don't need to invest in fancy fillings; There are plenty of organizers specifically designed to hold bread, but a simple dish rack gets the job done, too. Choose an adjustable design so you can accommodate all sizes.
It's not an innovative idea, but another alternative method is to store the pans in a large basket. It's not fragile so there's no risk of breakage, and leaving it that way makes it very easy to break into. You don't have to worry about aesthetics either, which is a plus. There's nothing worse than seeing a pile of pans every time you open the cupboard door!
---
However you choose to do it, storing your baking dishes so you can see them and access them easily will make a big difference in organizing your kitchen. Spending less time searching for a casserole means more time getting your cooking spot together – added bonus!