Erco Review, Erskineville

The much-loved local menu has been given an upscale twist, offering everything from family dinners to champagne and oysters, and even dog treats.
On a warm Saturday in Erskineville, the Erko Hotel is an announcement to all of humanity.
Indoors and outdoors at this classic inner-west corner pub, tables are filled with families, couples and groups, pet dogs play in their water bowls, and people shoot by the pool or stand around chatting with great cheer.
Between the Chesterfield sofas, dark mint walls, glowing art deco lights and bronze wood paneling, it feels like the entire little suburb has gathered for a cold meal, a chat and a chance to eat a revamped menu.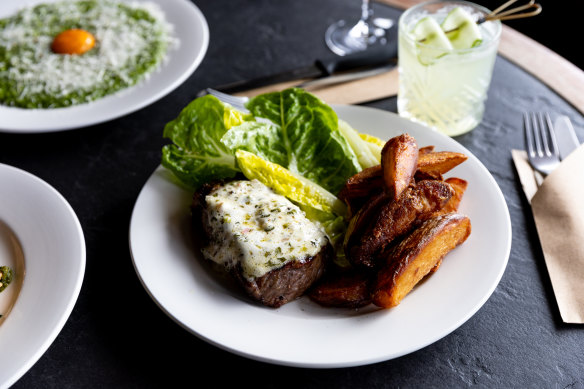 Since October, head chef Ethan Robinson, formerly of Chiswick Woollahra restaurant, has been leading the kitchen, introducing new ideas for sustainable food and upscale pub dishes.
Originally from Canada, with experience at the classic French restaurant La Chaumiere and in Beijing as head chef at the Canadian Embassy, ​​he has joined the city-wide trend of raising the quality of pub food, while maintaining the classics.
Entrees, which include new season asparagus, fried chicken sliders, broad bean hummus, and good homemade bread, also feature a winning raw kingfish and the kind of crunchy squid that pairs perfectly with cold squid.
Folded like mini napkins with a sauce made of citrus oil and charred dill, and topped with pickled cucumbers, the kingfish is tender and fresh. The fried calamari, dark golden strips of crunchy seafood, slides effortlessly into the green harissa.
Robinson, who recommends eating kingfish on a hot spring day, is a fan of raw fish.
"There will always be one dish on the menu that reflects that," he says. "And the crispy squid, it's definitely a restaurant classic but I wanted to do something different with the sauce. The green harissa is spicy and herby and a bit funky. The secret ingredient here is a little fish sauce. We also use potato starch to fry the squid as a gluten-free option."
The main dish that arouses the most interest, and raises eyebrows at every table it passes, is the Florentine risotto. It looks like a round green meadow with a quivering ball of yellow sunshine in the middle, flavored with a puree of spinach, basil, parsley and tarragon, made with butter, Parmesan and crème fraîche and topped with raw egg yolks.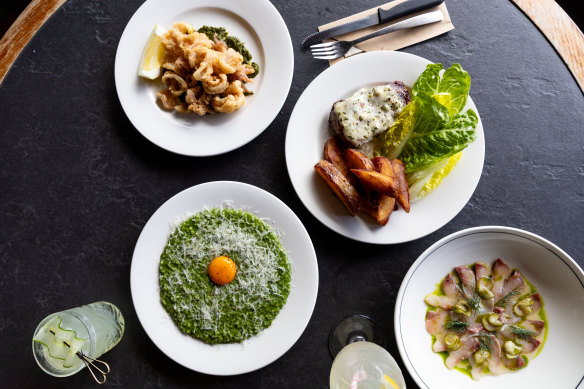 It's nice to scoop, rich and buttery, but lighter than expected. The herbs, which grow in the community gardens adjacent to the Erko Hotel, make it fragrant, and crackling the egg yolk and stirring it through it feels luxurious. "We wanted to make a really bright green dish that's full of flavor for spring," Robinson says.
Equally excellent is the grass-fed New South Wales steak, served with chimichurri butter or gravy, with twice-cooked potato chips and radiant fresh courgette spears. A simple dish with high-quality meat and the kind of fat, wide, golden flakes that you devote all your attention to for a halcyon time.
"We also serve a market fish platter, but I also try to stay away from the big three, which are salmon, barramundi and tuna, as it's not sustainable to continue using just those three," says Robinson. "I'm trying to raise awareness about other less common fish that might take the pressure off any one species."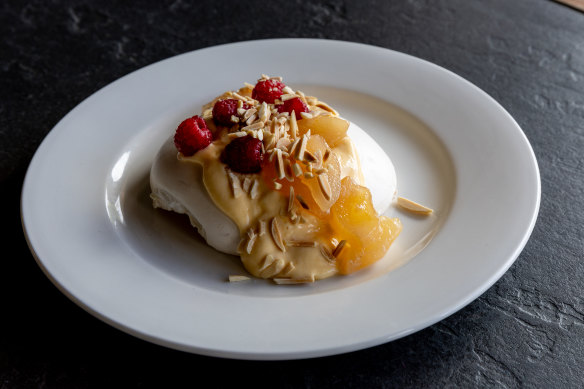 The dessert menu features a gluten-free chocolate hazelnut cake with spiced orange and whipped mascarpone, and a soft and chewy pavlova with poached pear, raspberries, almonds, raspberries, and beautifully robust lemon curd. Pears will soon be replaced by mangoes as their ripening season begins.
Erko's dog menu continues, with homemade dog biscuits, raw beef tartare, and a banana and peanut muesli bar, and it's always worth checking out the Polaroid gallery on the back wall of the pub for visiting dogs.
Robinson, who regularly emerges from the kitchen to chat with customers, says he did his best to please Erko's various crowds.
"Family dinner, local workers' lunch, champagne and oysters in our backyard on a Saturday afternoon," he says. "I love the local community in Erskineville. Everyone has been really welcoming so far and I'm inspired by the clear upbeat spirit of this place.
Low down
Erko
Vibration: Tailor-made pub food from a former Chiswick and Woollahra chef in a classic in-the-west watering hole packed with locals
Go-to dish: 250g NSW grass fed sirloin with twice cooked chips
Correction: A previous version of this story referred to the chef as Nathan Robinson. It has been updated to say Ethan Robinson.
Restaurant reviews, news, and hottest openings delivered to your inbox.
subscription