Japanese Wagyu is one of the best chefs in the UK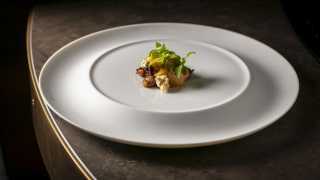 <h2 class="article-subtitle">Six of the UK's top chefs will be showcasing uniquely designed Japanese wagyu dishes for one week each until Christmas Eve.  We've rounded up the dishes below – you're the one doing the eating </h2>
        </p><div>
            <p class="article-dropcap"><span class="article-first">This season a</span> A team of the UK's top chefs will showcase uniquely designed Japanese wagyu dishes in a celebration called Delicacy Beyond Imagination.

Throughout the run, diners will have the opportunity to experience wagyu in a variety of new and unique forms at each restaurant, with chefs showcasing their limited edition version of the Japanese wagyu dish for one week only.
The celebration continues from November 13 to December 24 at the following restaurants:
Kitchen Table, November 13-19
James Nabbett's dishes include A5 Wagyu Rib Eye, Porthelly Oysters, Shiso Oyster Leaf Salad, Attica Pickled Cabbage, Fresh Jalapeno/A5 Wagyu Rib Cap, Shrimp Head Sauce, Wet Walnuts, Black Walnut Ketchup, Beef Steak Mushrooms, and Chicken Herbs.
Le Petit Beef Bar, November 20-26
Thierry Palodetto's dish is a "New Style Carpaccio" feat. Bull Tuna and A5 Wagyu
Taka Marylebone, November 27 – December 3
Taiji Maruyama's dish is A5 Wagyu Katsu Sando
Lots at 45 Park Lane, December 4 – 10
Elliot Grover's dish is A5 Wagyu beef tataki with white truffle, crispy garlic chips and ponzu.
MiMi Mei Exhibition, December 11-17
Chefs from MiMi Mei Fair will serve grilled wagyu beef ribs with black garlic sauce and pickled red onions.
Yenishir Hall, December 18 – 24
Gareth Ward's dish is wagyu rib eye, tare, shabu salt, duck liver pate and white hollandaise miso with sesame.
Japanese wagyu is known for its marbling, softness and deep flavor (literally translated as wa – Japanese and gyu – beef) and is one of the most respected ingredients in the world. Wagyu originates from the Japanese Black, Brown, and Shorthorn breeds and their hybrid breeds only. The famous Japanese black makes up more than 90% of all Wagyu cattle.
Ahead of the festival, James Knappett (chef-patron and co-founder of Kitchen Table) says: "Japanese wagyu was created through a meticulous adherence to perfection, which is what makes working with it such an honor. I can't wait to showcase my dish at Kitchen Table next November, and I'm also excited to try other dishes created by some of my favorite chefs in the country."