Join us for our Sustainability Networking Luncheon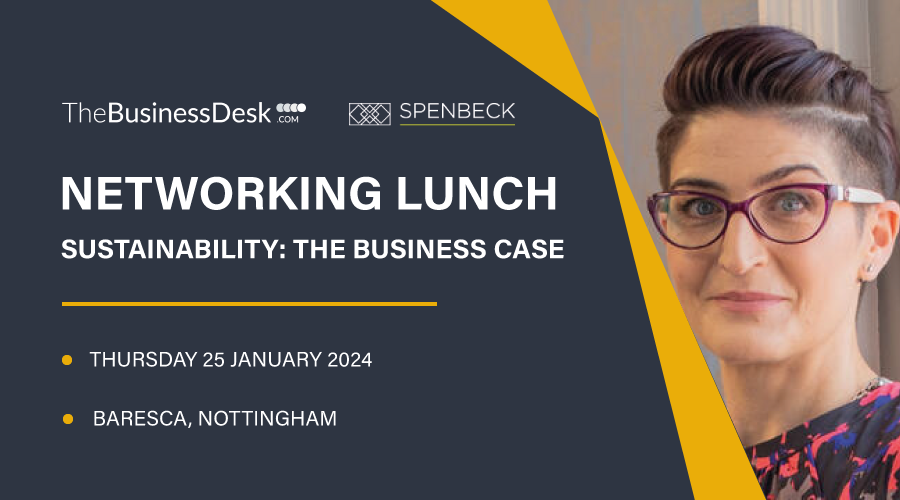 TheBusinessDesk.com is excited to launch its next networking lunch – this time with Becky Valentine, co-owner and sustainability and wellness consultant at Spinbeck.
The event will take place on Thursday 25 January at Bar Esca in Nottingham, from midday onwards – and tickets are available now.
It is a challenging time for business leaders and decision-makers, who face increasing external pressures and demands on more limited resources and capabilities than ever before. Whatever your personal views on sustainability and net zero, the business case for making your company as sustainable as possible is clear: ignore it at your peril!
Click here to reserve your places
In this lunch, Becky Valentine, one of the region's leading sustainability experts and co-owner of Spenbeck, will take you through why sustainability and Net Zero need to be an integral part of your overall business strategy and not just a "nice to have" target. Cost effective to help you make an immediate impact and engage your entire team.
Becky Valentine is co-owner and Head of Sustainability, Wellbeing and Building Health at Spenbeck, an award-winning family business that helps businesses, schools and charities thrive.
Winner of the 2022 Business Desk East Midlands Green Leader Award, certified carbon literacy facilitator and retrofit lead for a 40,000 sq ft Grade II listed heritage building, Becky draws on her 12 years of experience in sustainable buildings and operations to help clients integrate sustainability and climate change mitigation within its operations, with a particular focus on governance, culture and processes to improve engagement and achieve environmental goals.
Click here to reserve your places
In addition to her previous teaching career and current role as Associate Lecturer in Sustainability at Nottingham Trent University, Becky's expertise is repeatedly sought out in expert panels, lectures, podcasts and feature articles.
Why join us?