Ranking of the Best Sandwiches at Mendocino Farm – The UCSD Guardian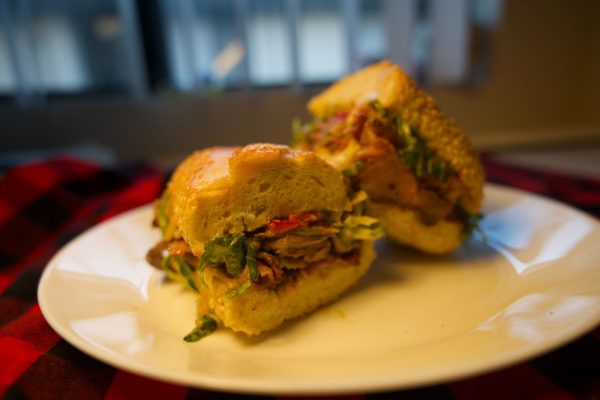 Just over a month ago, I finished a short stint as cashier at Mendocino Farms. During my month-long stint, I made it my mission to try every item on the menu. Unfortunately I didn't succeed, but I came pretty close, and indulged in almost every sandwich and most salads. However, while my free employee meal privileges have ended since my termination, the thought of those delicious sandwiches is still on my mind. I think the experience of trying a new item every shift has made me more or less know what to order. I should start by saying I don't like avocado, I'm not a huge fan of pork, and I'm quite a texture girl. So I present to you my personal, unqualified and completely objective rating of Mendocino Farms sandwiches (not including seasonal and limited-time items or items I didn't try because they didn't look appealing).
1. Farm Club
I have to tell you this surprised me. I had no expectations that I would fall in love with the basic turkey sandwich. But here I am calling it number 1. I think it's hard to go wrong with a classic, especially one that's done well. The Farm Club is the quintessential Türkiye Club. It features thick-cut turkey and chopped bacon atop honey-glazed whole-wheat bread, topped with avocado and stuffed with pickled onions, lettuce and tomatoes. It may sound modest, but I consider a bite of this sandwich to be like having good sex with a scrawny twink talking to himself in your DMs. He's always been there, and I've barely chosen him, but now that I do, why is he…packing? You may have to come back for more…
2. Chicken Parm Sauce
When trying the sandwiches, I would often ask my co-workers for their input, and my favorite girl cited this as her favorite. I didn't know if I could trust her choice because she's quite the model, and I sometimes make the distinction as to whether I think they'll know what good food is. But wow, this girl knew her stuff. Mendo describes the chicken parm sauce as lighter than classic chicken parm, with a grilled chicken breast topped with buttermilk cream instead of a breaded, fried steak. I didn't know what to expect since I don't eat chicken parm very often, but the moment those flavors touched my tongue, I was dancing. With the very subtle flavor of the pomodoro sauce, the freshness of the basil, and the crunch of the sesame roll, this sandwich was pushed to the top of my list.
3. Chimichurri Steak and Bacon
Anyone who knows me knows that I'm a girl who loves her meat. My engine really starts revving when I hear the word steak. So, it's a no brainer that this was the first sandwich on the menu I tried when I qualified. I don't know if Mendo has done anything particularly fancy with this sandwich, but I can't be mad at the chance to eat beef and bacon at the same time. The paprika and chimichurri make this a beautifully balanced sandwich with some smokiness from the bacon and some texture from the bun. If you like red meat, I don't see you hating this sandwich.
4. Chicken Pesto Caprese
I'm about to get controversial. I don't like chicken pesto caprese. From working there, I know that's where a lot of people go, but honestly I think it's okay. I might object to the bread, as the ciabatta doesn't add much to the sandwich. They are eerily simple and strangely uniform despite being colourful. It's okay, and I would never turn it down, but I also wouldn't say it's the first thing I order unless I have a craving for pesto and mediocrity.
5. Sweet Thai Crispy Chicken Sandwich
If you're in Mendocino Farms and want a fried chicken sandwich, I'd tell you this. It's air fried chicken on top of a soft burger-type bun and topped with a "sweet" chili sauce. Personally I would say it's sweeter than the heat and is a bit messy to eat in the top ten, but it's solid and very crunchy. I don't have a great review, but I can appreciate that this sandwich is an option if my other options are lacking.
6. Mendo Original Pork Belly Banh Mi
I gotta be real…I don't treat pork that way. And I don't enjoy this sandwich. Believe me, I wish I did. I'd like to stand here and say it's delicious, unbelievable, and the perfect sub if you can't find banh mi, but that's honestly not the truth. I can have a good banh mi despite my lukewarm feelings about pork, but this sandwich and the chunks of meat it's packed with aren't really for me. In my opinion, if you want banh mi, go to Convoy and get banh mi. There are a number of items you can come to Mindo for, but banh mi's restored classic cousin is not one of them.
7. Vegetarian banh mi
Among the vegan sandwiches, I prefer these over the vegan Pesto Caprese. The tofu is firm, the sauce is good, and it's a decent sandwich. If you're asking: No, I won't ask that. But I suppose if I could read Eating Animals by Jonathan Safran Foer, I might choose this sandwich.
8. Prosciutto and chicken sandwich
This is one of those sandwiches that you think will make you feel elegant. I ordered it thinking I should test my plate to see how well it had developed, but I realized this sandwich wasn't a good sign for that. I thought it might be similar to the Pesto Caprese Chicken – and in some ways it is, with the same pressed ciabatta, pesto and chicken. But this has prosciutto and a balsamic glaze, which makes it feel like elevated pesto caprese. mistake. It's caprese pesto chicken, only much worse. It lacks dimension and depth. It's strangely sweet. Overall, it's not very good. If the Ranch Club equates to amazingly good sex, this sandwich is like sad, ruined sex. A prosciutto and chicken sandwich is what you like so sexy it's disappointingly terrible in bed.
9. Peruvian steak sandwich
I do not like that. Call me crazy but this isn't for me. I guess I'm not a fan of the way aji amarillo tastes and I don't like how saucy this sandwich is. I like some balance and this is very dense. Compositionally, it also feels like it's missing something; Where is the crisis? I just think that out of my two steak sandwich options, I would definitely choose the Chimichurri and Bacon steak instead. I feel bad saying this because it was a favorite of my co-workers, but I don't like that pepper and I don't like that sandwich. It's weird because I can appreciate spices, but not those.
10. Vegetarian Pesto Caprese
What is the benefit of the sandwich if this amount of mozzarella cheese is placed between its slits? I understand it makes up for the lack of protein, but where's the flavor? It's just…cheese. I need more, and from the moment I tasted this sandwich, I knew it wouldn't be the one to get me through.
11. Non-fried chicken sandwich.
I know that's their thing, but I'm not interested in it. I don't want to be a pig, but when I cough up $14 on a sandwich, I expect to have a good time. I want her to flirt, I want to see that sandwich and think "Great, we're about to throw up." Visually, this sandwich doesn't do that. He looks kind of sad and fluffy. I understand that looks aren't everything, and sometimes foreplay isn't a person's thing, but I was hoping this sandwich would eventually have some skill. Upon first bite, it's as good as it sounds. I don't like mustard and therefore don't like slaw, I don't find krispies all that crunchy, and I don't think the chicken is juicy and chewy. It's unexciting and unsatisfying, which makes it my least favorite element.
This concludes my list of what's hot and what's not from Mendocino Farms sandwiches. Remember though, I'm not a food connoisseur, so I still recommend you decide for yourself which Mendo sandwich is the best.