Tuga x Village, Clovelly review

The best advice is to order something you may not have heard of before at Clovelly's newly renovated beachfront café Tuga x Village.
If you meet Diogo Ferreira, the baker and owner of Tuga Pastry, Tuga x Village and its sister café in Alexandria, expect a whirlwind of passionate conversations about food, family, his Portuguese origins and the coastal village suburb of Clovelly.
Even on his honeymoon in Europe this year, Ferreira was testing, tasting and researching food, products and cooking techniques to bring home.
"Everywhere, including the flight back, I was constantly writing down thoughts and opinions, researching, trying and gaining 10 kilograms," he says. "The plane literally landed and I was chasing everyone, 'We're doing a new menu, new drinks, new pastries, new birthday, everything'."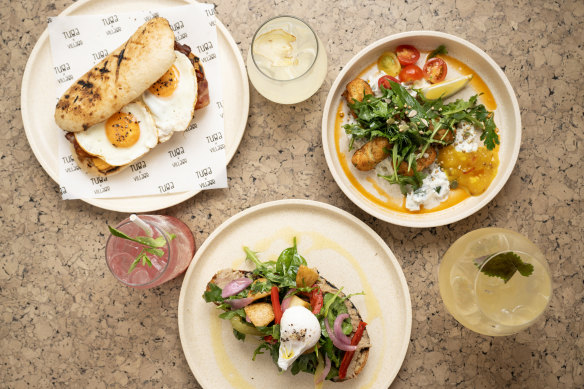 Ferreira's passion inspired Tuga x Village, a buzzing, elegant café featuring mosaic tile floors, a banquette and table, outdoor seating, white brick walls, and cork countertops and facades. Renamed and updated after renovations, it's a reworking of Ferreira's Village at Chloe, the café he ran here for seven years, just a few doors down from his Toga Bakery.
They also have a new summer menu and the best advice is to order something you may not have heard of before.
Start with pastes de bacalhao, Portuguese cod croquettes served with mint and cucumber yogurt, mango toga salsa, a generous vegetable salad and chili oil. Crunchy, plump, and meaty, they're ethereally good. Customers swear by the egg and bacon rolls, fried eggs served with lard, but they add torricados sardinaha, a Portuguese sardine dish with french fries, pickled onions, green pepper sauce, and the Portuguese-style sourdough, pau alentejano, from southern Portugal in the Alentejo region.
The sourdough, which Ferreira started baking a year ago, also comes from seeds, in white or rosemary and olive, but look for pollo do caco, slightly sweet potato cakes originating from the Portuguese island of Madeira.
Other menu highlights include hamburger de salmao e choco, grilled salmon and squid fritters with lemon mayonnaise, horseradish and seaweed salad; and porco, Portuguese marinated pork with yogurt and chimichurri on pollo de caco.
Tuga's drinks, all made from scratch, are topped off with four house-made sodas. Order the lemon, lime and bitters with the house-made lemon-lime syrup, and the toga ginger ale, which is a little ginger ale mixed with lemon juice, lime and sparkling water.
Outside, people line up for pastries: almond croissants, orange cardamom tarts, delicious Danishes speckled with cheese, and glossy Swiss with custard and chocolate chips.
A myriad of pastel de nata accompanies the dark brown pain nut suisse, filled with chocolate, frangipane, Nutella and chopped hazelnuts, and bola de perlem, sugar-rolled, chocolate-coloured Portuguese cakes that burst with sweet egg filling.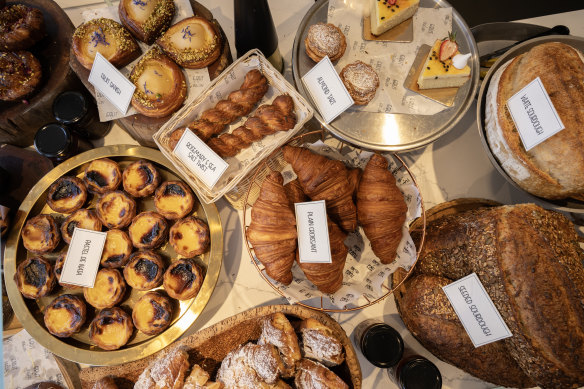 Growing up, Ferreira, who has lived in Clovelly for nearly 20 years, got a first-hand view of baking and food production, with his mother Maria Lucia and his late father Agostino "Gus" Ferreira then running bakeries and cafes in Sydney. They emigrated from Portugal in 1985. Starting with a Honeymoon bakery in Petersham, they ran Fleur de Lis in Bondi, then a factory space in Buckley Street, Marrickville, where they made, among other baked goods, 3,000 pieces of hand-pressed nata paste a day .
Ferreira followed the family baking tradition after a few years of hospitality by experimenting with his late father's recipes.
"My father never wanted to teach me because he knew how difficult such work was," he says. "When my parents immigrated here, they were from villages in the country, and they had no education. It was a difficult life for them.
"It's hard, but now I visit those villages again and they're broken down or collapsed, or no one lives there. I can see why he would think, 'Stay away from the kitchens.' But I didn't want that to hold me back."
Next year, Ferreira will return to the Buckley Street building to open a three-storey Tuga headquarters with a roof garden, large bakery space, retail and dining areas, inspired by the Time Out shopping and dining market in Lisbon. "It took a long time, but it finally happened," he says.
Low down
Toga x village
Vibration: A café in a beachfront suburb serving quintessential Portuguese pastries and a breakfast and lunch menu in a refreshing space.
Go-to dish: Pastes de Bacalhao – cod croquettes with mint yoghurt, cucumber, mango sauce and chili oil
Restaurant reviews, news, and hottest openings delivered to your inbox.
subscription